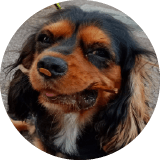 "Rosalind is a wonderful dog sitter who takes excellent care of Linus! Right off the bat when we first met her, we got an excellent impression. She is very warm and friendly and was great with our dog. When we came home after almost a month away, Linus was relaxed, clean and happy.
During our time away, Rosalind sent us photos of Linus having fun with his buddies which was really nice. I wouldn't hesitate to recommend her and will absolutely be having Linus stay with her again. It's great to feel free to travel and know that your pet is well cared for. Thanks for doing such a great job!!!"
Prisca
(Owner of Linus, Cavalier King Charles Spaniel)
Dated: 13 January 2022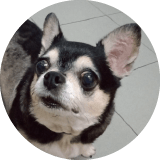 "Max has been going to Super Cuddles for 6 months now. It took my boy a few months to adapt. Max is super shy but with Super Cuddles patience and love Max finally adapt to Rosalind and her family. I am so happy that my boy has a good 2nd home to go to whenever I travel and I can finally enjoy my trip knowing that Max is in good hands. Because I can't find the right people to take care of Max I have sacrifices travel for the last 8 years. This experience with Super Cuddles is not only new for my dog Max as he has never left my side for the last 8 years but Ive also learned to let my dog be a dog with his own kind and to let go a bit and not to be too protective and not to take everything so seriously. I am so grateful and blessed that God answered my prayer. Thank u to Rosalind and her family. ❤️🙏"
Eve
(Owner of Max, Chihuahua)
Dated: 26 November 2019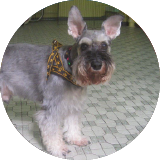 "Our dogs went there for years, once a week, just so they could socialize and mingle with other dogs in a calming environment. They loved it and I believe missed it once we moved away. I missed it too. And I miss seeing Rosalind too."
Anneke
(Owner of Ashes [pictured above] & Caro, Miniature Schnauzers)
Dated: 30 August 2019
"Very caring and good service."
Adeline
(Owner of Lucky, Pomeranian)
Dated: 22 May 2019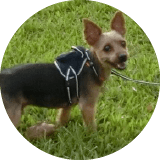 "Toby was very happy with his 4d3n stay! They took good care of him and provided updates via sms and whatsapp! Very friendly as well and willing to share tips on how to better manage Toby's emotions and behaviour when we were there for a visit and evaluation. Thumbs up and will be our number 1 choice in future for dog boarding. 🙂"
Geraldine
(Owner of Toby, Silky Terrier)
Dated: 8 October 2018
"Miko has been a happy guest at Super Cuddles for just close to a year now – she always comes back home beaming and clearly having had a really good time with her friends. We've always had a wonderful experience with Ros and her family taking care of Miko, and can't recommend them highly enough!"
Howie
(Owner of Miko, Pomeranian)
Dated: 1 August 2018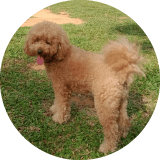 "Demi has been going to Super Cuddles every week for just under a year and I'm positive it's the highlight of her week, she is so excited when Rosalind arrives to pick her up.

All the dogs are beautifully cared for in a lovely environment, we couldn't ask for more."
Kate
(Owner of Demi, Cavoodle)
Dated: 11 April 2018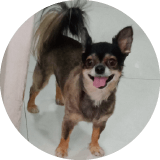 "Super Cuddles is the most trustworthy dog daycare with lots of love and care in a family environment. Perfect place for our 'eccentric' Tori to mingle with her friends.

Best place to leave our Tori when we're away for trips. Frequent updates with pictures of how she's doing day and night!"
Clarissa
(Owner of Tori, Chihuahua)
Dated: 11 April 2018
"Hi Rosalind & Dips,

Thank you for taking such good care of Xiojo during his stay. It's so important to us that we know he is in a happy place and that he will be taken good care of. It gives us the peace of mind to travel. The updates and videos help us to stay connected with him albeit from a distant place. Thank you once again and we sincerely appreciate it."
David & Stephanie
(Owners of Xiojo, Poodle)
Dated: 14 February 2017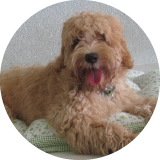 "Hi Rosalind, Thanks for looking after Maggie well and teaching her to be more sociable! It was also reassuring to receive regular updates during the period when she wasn't with us. Glad to have chosen Super Cuddles, made the right decision to go with a nanny who has the well being of the animals at heart."
Fong Lai
(Owner of Maggie, Poodle)
Dated: 3 February 2017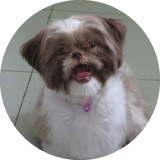 "Ros, thank you so much for today!! I can see a big difference with the girls when I arrived home. They're better behaved, friendlier towards each other and overall happier. I'm very much looking forward to having them in daycare with you!! 🙂"
Issa
(Owner of Dimples & Tummy, Shih Tzu & Poodle)
Dated: 14 July 2016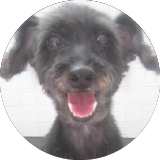 "Thank you Rosalind for helping us get food for Toby. Thank you for being so gracious in helping us beyond what you needed to do for us. We want you to know we really appreciate it. We always are at ease knowing Toby is with you. So thank you again!"
Evon
(Owner of Toby, Poodle Mix)
Dated: 26 May 2016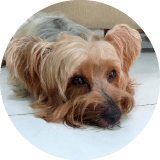 "Thanks for taking care of my beloved boy all these years."
Constance
(Owner of Kenzo, Silky Terrier)
Dated: 19 February 2016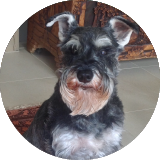 "I recommend Super Cuddles without reservation – I speak from four years experience."
Anneke
(Owner of Ashes & Caro [pictured above], Miniature Schnauzers)
Dated: 27 November 2015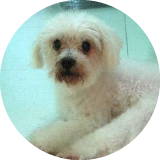 "Thanks Ros. Am glad that Miffy got to spend time with someone who truly cares for her."
Trixie
(Owner of Miffy, Maltese)
Dated: 25 October 2015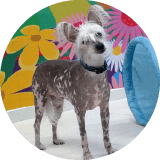 "Rosalind and team at Super Cuddles have provided outstanding daycare and home boarding services for my little Ernie for two years. Their transportation services are fabulous! Ernie was always in great hands – from long walks, vet check-ups and tons of love! I highly recommend Super Cuddles to anyone who is seeking companionship for their dog while working or traveling. I'm crazy about my dog and Rosalind has gone above and beyond to treat him like family. Thank you Ros and team! You're simply the best!"
Jessica Kole-Maney
(Owner of Ernie, Chinese Crested)
Dated: 6 February 2015
"Hi Rosalind,
Thank you! We are very happy with you guys looking after Kiyo. I saw how excited Kiyo was when your husband came to collect her, so I know she's treated very well and enjoys staying with you guys! I've only seen her get like that with Teng and I, so it's reassuring she sees you as her other pack!"
Keith
(Owner of Kiyo, Cocker Spitz)
Dated: 9 September 2014
"Dear Rosalind and Super Cuddles family!
I wanted to thank you for taking care of Max and Mila for the past week! I can tell because of how happy and energetic they have been since I gotten them back from you. I have had a bad experience in the past where they came home scared, timid and hurt! You are truly gifted. Anyone can see your true love for animals. I am definitely excited and happy to be part of the Super Cuddles family!"
Marina
(Owner of Max & Mila, Poodles)
Dated: 20 December 2013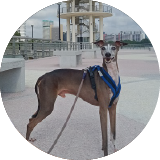 "Hi Ros,
If I have any friends who need doggie daycare, I will 100% recommend your place!"
Stuart
(Owner of Rappy, Italian Greyhound)
Dated: 25 August 2013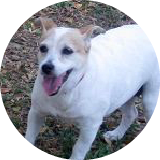 "Hi Ros,
I am certainly very happy with the service, Jillie is always happy to come to you in the morning – which is a good sign!"
Peter
(Owner of Jillie, Jack Russell Terrier)
Dated: 16 August 2013
"Hi Rosalind,
I just wanted to thank you so much for taking such good care of her. We really appreciate it! Oh, I think she missed you last night as well. She kept going back to the lift looking for you! Honestly, so grateful to you."
Heidi
(Owner of Honey, English Cocker Spaniel)
Dated: 14 February 2013
"Hi Rosalind,
Thank you so much. Lady was happily snoozing when I came home and we went for a walk at midnight when I finally came home! Really appreciate you caring for her so well."
Adiba
(Owner of Lady, Maltipoo)
Dated: 15 December 2012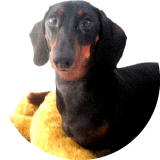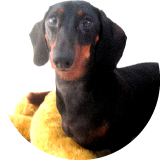 "Dear Rosalind,
No words can express how grateful and appreciative I am for your amazing support you provided during my short stay in Singapore. You were such a great person to have met and work with both for myself and Sebastian. I'm sorry you won't be in Australia, as Seb and I will both miss you dearly."
Tanya
(Owner of Sebastian, Miniature Dachshund)
Dated: 3 July 2012
"Thank you Ros, I'm thankful you have accepted our Kimmie as one of your guests. We can balik kampung (go home) for Chinese New Year with peace of mind that she'll be well looked after. Kumsiah (Thank you)."
Mrs Goh
(Owner of Kimmie, Maltese)
Dated: 19 January 2012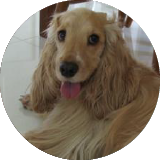 "Hi Rosalind,
Oh thank you so much. I think Honey will miss you too, especially when we go away as you took such good care of her! I'll pass your details on to the hotel as seeing that they allow pets in the serviced apartments. Other people will need a good groomer and pet sitter. Thanks again!"
Heidi
(Owner of Honey, English Cocker Spaniel)
Dated: 3 March 2011
"Hello Ros!
I think you have done a wonderful job with Genevieve. She comes home happy and well adjusted."
Dianna
(Owner of Genevieve, West Highland Terrier)
Dated: 1 January 2011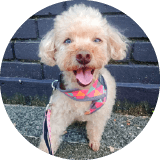 "Hi Rosalind,
Thank you so much for posting pics of Jasmine. I miss her lots so it's nice to see how she's doing. Thank you for taking great care of her."
Melissa
(Owner of Jasmine, Toy Poodle)
Dated: 28 December 2010
"Hi Rosalind,
Just wanted to drop a note to say thank you so much for taking care of Piko while we were away. Mum has taken the feedback to heart and is a lot more firm with Piko for her own good. I think she needed to hear it from someone else other than us. We noticed that Piko is generally better behaved nowadays. So just want to thank you again and we will definitely recommend you to any of our friends who need such services."
Nan
(Owner of Piko, Beagle)
Dated: 8 September 2010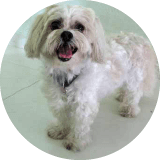 "Hi Rosalind,
Thanks again for great job in looking after my fur family. Makes going away that much more enjoyable knowing they are well looked after."
Vanessa
(Owner of Toby, Maltese)
Dated: 27 June 2010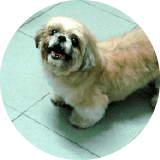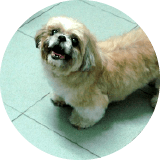 "Hi Rosalind,
Thanks so much for the picture. I constantly thank God and marvel at our great fortune in meeting you. Thanks so much for everything you have done for Sherri. The haircut looks great 😀 I will certainly let you know of my next visit. In the meantime, all my love to you and your family. Special hugs and kisses for Sherri."
Charlene
(Owner of Sherri, Shih Tzu)
Dated: 30 January 2010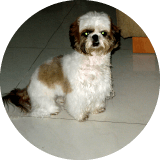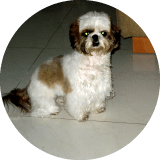 "Hi Rosalind,
I just wanted to thank you and your husband again for taking such good care of Daisy and for being so patient with her. When we brought her home she was so lively and playful and more outgoing than usual. Usually she is not herself for half a day. That speaks volumes about the kind of care she has received! It is so difficult to find someone responsible and trustworthy enough to take care of one's "baby." So I'm very glad to have found you! Your concern and love for dogs is apparent and genuine. I would recommend Super Cuddles very highly to anyone I know!
PS- I replayed the video you made and when she heard your voice she jumped up wagging her tail and looked all over for you!! 😀"
Katherine
(Owner of Daisy, Shih Tzu)
Dated: 26 January 2010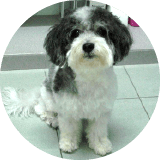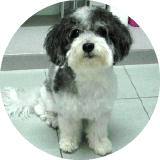 "Thanks for the share Rosalind !!
I continously go back to Flickr to see your pictures, thanks for keeping us up to date, that is why you are the best pet sitter in SQ ! hugs"
Elize
(Owner of Kabous, Maltese)
Dated: 9 November 2009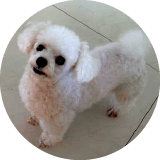 "Hi Rosalind,
Thanks for taking care of Mikey. I don't know how you do it, but Mikey has been a very good boy since he came back. 😀"
Jenny
(Owner of Mikey, Toy Poode)
Dated: 8 November 2009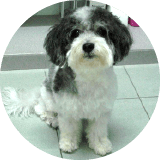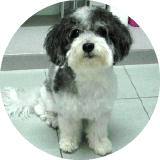 "Dearest Rosalind,
I would like to thank you so much for taking care of my baby for four weeks. I could not have asked for better homing during this period. After visiting your place before the actual boarding, we just knew that this is the place for Kabous. You have done an excellent job and my friends and family all enjoyed the videos so much you put up. Kabous sure whispered in my ear that he loves you lots and would like to go visit soon. Big hugs from us."
Elize
(Owner of Kabous, Maltese)
Dated: 21 July 2009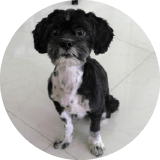 "Hi Rosalind,
Thank you so much for taking such good care of chocho. 😀"
Nancy
(Owner of Macho, Shih Poo)
Dated: 25 June 2009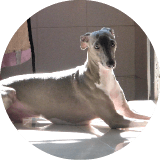 "Hi Rosalind,
I think it was like Mardi Gras for him the last few days! Thanks again for taking good care of our Solly! We'll be in touch and look forward to seeing the karate kid in action on video. 😀"
Julia
(Owner of Sol, Italian Greyhound)
Dated: 4 May 2009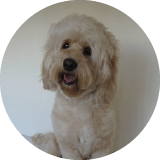 "Hi Rosalind,
Thank you soooo much!! I came home to a very handsome & happy Jones. He looks fantastic & Rick said he was really relaxed with you all when he picked Jones up. I'm glad he fitted into your household. I'm not sure what we're doing in April as yet but know we're definately going away from Wednesday 7th May 'til Monday 12th. I'm hoping Jones will be able to spend this time with you. Thanks so much for the photo's, you're a very caring & special person. Talk soon & thanks again"
Louise
(Owner of Jones, Spoodle)
Dated: 11 March 2008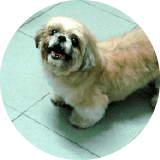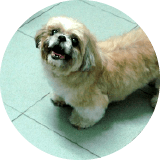 "Hi Rosalind,
Many thanks. Can't imagine Sherri in a better home than yours."
Charlene
(Owner of Sherri, Shih Tzu)
Dated: 10 March 2008
Wow, you persevered and made it to the end!
Read our latest reviews on Google or leave us a review if your doggie has been to Super Cuddles!
Want your dog to join our pack for doggie daycare or dog boarding?